Brussels Airport Attack – I was there!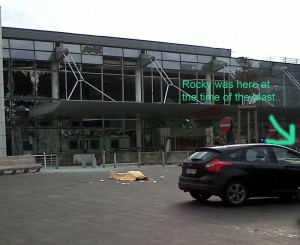 Rocky was at the airport dropping off a friend and sitting in his car about 120 feet from the main entrance. He heard a loud noise and saw people running out of the building. When he saw that people were wounded and bloody, he parked the car and went to look for our friend, Jeff. He was headed down to the door where Jeff had entered and he stopped to help some people who were in shock or injured. Police were herding the people into a side parking lot for safety and triage. Rocky talked to airline employee who was very upset and asked her if she knew God. She said, "I do now." Rocky and Jeff had to walk out of the airport and reenter on the other side to get the car and thankfully they got to leave before everything shut down. Rocky was able to help a family who was walking out of the airport.
Our focus for prayer is the safety of everyone living here and for the security officers to have wisdom in foiling any other plans. We feel very safe but we know we live by God's grace. We are also praying for our friend Jeff, whose luggage and carry-on was left inside the airport. He had a number of valuables inside.