Waterloo bicentennial unites, divides Europe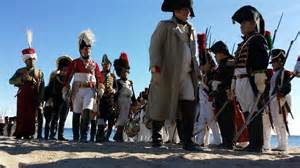 "Waterloo, the folly and the grandeur. The horror and the genius. The tragedy and then the hope," Belgian Prime Minister Charles Michel said in an opening address under leaden skies. The stress was on modern-day reconciliation and the sacrifice of some 47,000 dead or wounded soldiers on the fields around the small town just south of Brussels, the target of Napoleon's ill-fated drive north in June 1815.
France and Germany however sent only their ambassadors to a ceremony that attracted kings and dukes, stirring a history that runs deep in a corner of the continent scarred by centuries of war. Belgian Prime Minister Michel called for reconciliation through the "European project" and its promise of peace despite modern-day challenges of conflict on its borders in Ukraine and economic worries. "The enemies of yesterday are the allies of today," he said. "This reality, it is the European project."
French Prime Minister Manuel Valls was ambiguous at best about the ceremonies. "I heard it said this morning that President (Francois Hollande) and myself should have been there so that we could shed our tears over this fearsome moment for our country," Valls said. France normally celebrates June 18 as the date when General de Gaulle issued a challenge for resistance against German forces in France in 1940. For France, June 18 date is a badge of honour when the country found its nerve again after a crushing defeat and dared to challenge the Nazi invader and not a reminder of Napoleon's defeat.
Belgium's King Philippe led the attendance, which included the Grand-Duke of Luxembourg and the Duke of Kent, the cousin of Britain's Queen Elizabeth II, along with Frans Timmermans, the first vice-president of the European Commission.